The Enigmatic Life of Frida Kahlo
Frida Kahlo, the renowned Mexican artist, remains an enigma to this day. Her life story is a tapestry of triumphs and tragedies, and her art reflects the pain and resilience that defined her existence. Born on July 6, 1907, in Coyoacan, a suburb of Mexico City, Frida Kahlo's life was marked by early adversity, physical challenges, and a passionate pursuit of artistic expression. From her tumultuous love affairs to her political activism and feminist ideals, Kahlo's life is a testament to her indomitable spirit and her enduring legacy in the art world.
Early Years and Childhood of Frida Kahlo
Frida Kahlo's childhood was shaped by both joy and sorrow. She was the daughter of a German father and a Mexican mother, and she grew up in a middle-class household. Tragedy struck at the age of six when she contracted polio, leaving her right leg shorter and weaker than the other. Despite this setback, Kahlo remained determined and developed a strong bond with her father, who encouraged her artistic pursuits. Her childhood experiences would later influence her art, as she often portrayed themes of pain and suffering.
Frida Kahlo's Illness and Physical Challenges
At the age of eighteen, Kahlo's life was forever altered by a devastating bus accident. She suffered multiple injuries, including a broken spinal column, fractured ribs, and a pierced pelvis. The accident left her in excruciating pain for the rest of her life and confined her to a series of body casts and corsets. Kahlo's physical challenges became a central theme in her art, as she used self-portraits to depict her emotional and physical pain.
Frida Kahlo's Education and Early Artistic Interests
Despite her physical limitations, Kahlo pursued her education and artistic interests with fervor. She attended the National Preparatory School in Mexico City, where she became politically aware and developed a passion for social justice. It was during this time that she also discovered her love for art. Kahlo's early artistic influences included the Mexican muralist movement and the European Renaissance masters. She experimented with various mediums, such as oil paint and watercolors, and developed a distinctive style that blended traditional Mexican folk art with surrealism.
The Influence of Diego Rivera on Frida Kahlo's Life
One of the most significant influences on Frida Kahlo's life and art was her tumultuous relationship with the renowned Mexican muralist Diego Rivera. They met when Kahlo was just eighteen, and despite their age difference and Rivera's reputation as a womanizer, they fell madly in love. Their relationship was marked by infidelity, jealousy, and passionate love affairs, but it also provided Kahlo with emotional support and artistic inspiration. Rivera's influence can be seen in Kahlo's choice of subjects, as she often depicted him in her paintings.
Frida Kahlo's art is characterized by its vibrant colors, detailed symbolism, and deeply personal subject matter. She used her art as a means of self-expression and explored themes of pain, identity, and the female experience. Kahlo's self-portraits, in particular, are renowned for their raw honesty and unflinching self-reflection. She often portrayed herself with a unibrow and facial hair, challenging traditional notions of beauty and femininity. Kahlo's art serves as a visual diary of her life, allowing us to glimpse into her inner world.
Frida Kahlo's Relationships and Love Affairs
Frida Kahlo's love life was as colorful as her paintings. While married to Diego Rivera, she embarked on numerous love affairs, both with men and women. Her relationships with figures such as Leon Trotsky, Josephine Baker, and Nickolas Muray were passionate and intense, often serving as both inspiration and turmoil in her art. Kahlo's exploration of her sexuality and unconventional relationships challenged societal norms and contributed to her status as an icon of female empowerment.
Frida Kahlo's Political Activism and Feminism
Kahlo's art was deeply intertwined with her political activism and feminist ideals. She was a vocal supporter of the Mexican Revolution and embraced indigenous culture and traditions. Kahlo's paintings often featured political symbolism and celebrated the strength and resilience of women. Her art spoke to the struggles of marginalized communities and advocated for social justice. Kahlo's activism and feminist stance continue to inspire artists and activists around the world.
Although Frida Kahlo only had one solo exhibition in her lifetime, her art gained international recognition and fame long after her death. In the 1980s, her work captivated audiences around the world, and she became an icon of Mexican culture and female empowerment. Today, her paintings are displayed in prestigious museums, and her image adorns countless merchandise. Kahlo's legacy has transcended time and continues to resonate with audiences of all backgrounds.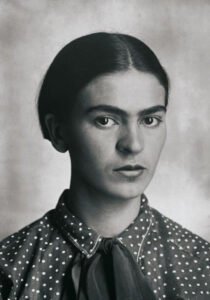 Frida Kahlo's Legacy and Impact on Art and Culture
Frida Kahlo's legacy extends far beyond the art world. Her life and art have inspired countless artists, writers, and activists. She is seen as a pioneer for women's rights and challenged societal norms with her powerful self-portraits. Kahlo's influence on contemporary art and popular culture is undeniable, with her image often used as a symbol of strength and resilience. Her impact on art and culture continues to grow, making her an enduring figure in history.
Controversies Surrounding Frida Kahlo's Persona
Despite her immense popularity, Frida Kahlo's persona has not been without controversy. Some critics argue that her art has been overshadowed by her turbulent personal life and relationship with Diego Rivera. Others question the authenticity of her self-portraits, suggesting that she purposefully distorted her appearance for artistic effect. There is also ongoing debate about her political activism, with some arguing that it was merely a product of her relationship with Rivera. These controversies highlight the complexities of Kahlo's life and the ongoing fascination with her enigmatic persona.
In conclusion, Frida Kahlo's life remains an enigma, filled with triumphs, tragedies, and artistic genius. Her art continues to captivate audiences with its raw emotion and introspection. Whether exploring her physical challenges, love affairs, or political activism, Kahlo's work is a reflection of her indomitable spirit and her desire to challenge societal norms. Through her art, Frida Kahlo has left an enduring legacy that continues to inspire and provoke thought in the world of art and beyond.